Budget Video News
Send us your production stills using Budget Video equipment and we'll post your information here. Don't forget to send captions.


2013 Darpa Robotics Challenge
2013.12.18 Wednesday


Budget Grip and Lighting supplied a grip truck full of gear to the National Geographic film crew at the 2013 Darpa Robotics Challenge this week, at Homestead-Miami Speedway.
Rolex and Tiger Woods
2012.11.12 Monday
For a shoot with Tiger Woods for Rolex in West Palm Beach, Budget Video supplied multiple Canon 5D and 7D cameras, lenses, filters, batteries, memory cards, Zacuto baseplates and gear, matte boxes, follow focus, Marshall monitors, TV Logic monitors, tripods, multiple Kessler Cinesliders, time code slates, and a ton of cables and accessories. Here are several videos from that shoot:


Vision 13 Multi Camera Shoot
2012.02.22 Wednesday


Ricky Louis of Vision 13 Films works with four Panasonic HDX900s from Budget Video Rentals, on a network show at a local Miami studio. Budget Video Rentals is offering great specials at the BudgetMultiCamera.com website. Call 800-772-1111 if we can help you.
Nascar 24 Hours!
2010.10.06 Wednesday
Budget Video camera used on the back of a modified chase truck. For more photos, see our Facebook page.


P+S Technik Skater Mini Dolly
2009.11.25 Wednesday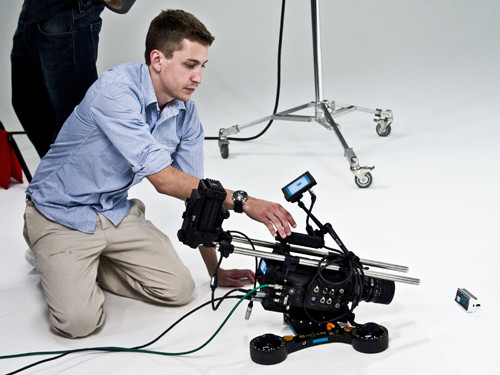 A P+S Technik Skater Mini Dolly rented from Budget Video, being used in production. Rent one today!
Budget Helps French "Amazing Race"!!
2009.11.17 Tuesday
A late night call came into Budget Video Rentals for eleven HD Sony XDCAM and Panasonic broadcast camera packages, complete with wide angle and 40X HD lenses, two dozen Lectrosonic 400/411 systems and more. They wanted the entire equipment package hand carried and baggage couriered by eleven passengers immediately to Quito, Ecuador in South America.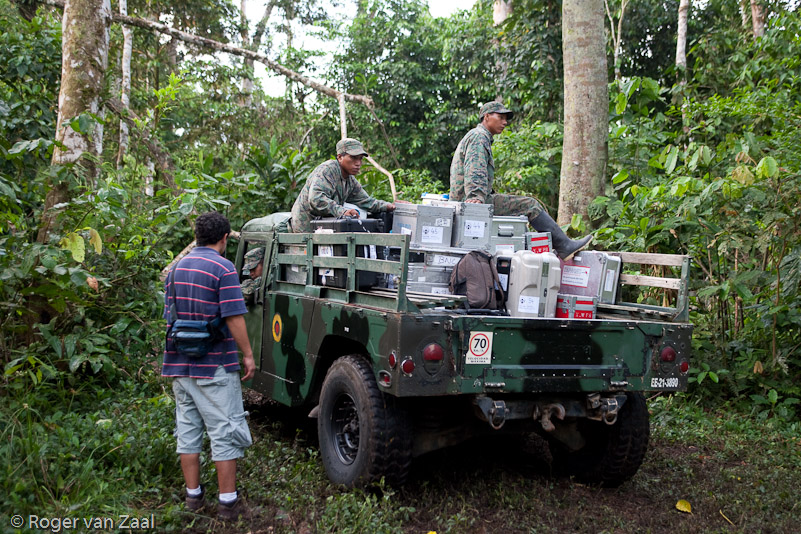 Photo courtesy Roger Van Zaal

A French "Amazing Race" major production had all their 11 cameras stuck in customs at the Quito airport for a week so far. They were anxious to put their entire staff and crew to work making their television show. Seven days hanging out in a hotel was long enough.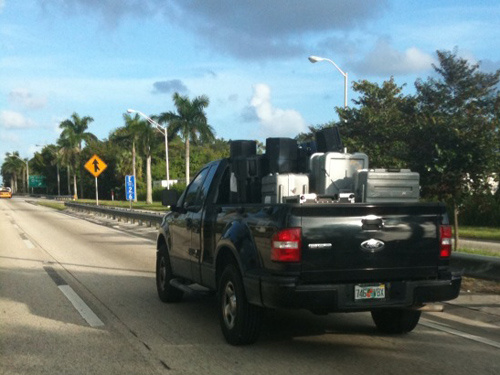 The production group decided to shoot only a teaser the next day. This required only three camera packages and couriers to fly them. Budget Video had the three hand-carried cameras on the next flight. The following day we had the other eight packages completely prepped and ready to fly (see picture at the airport!).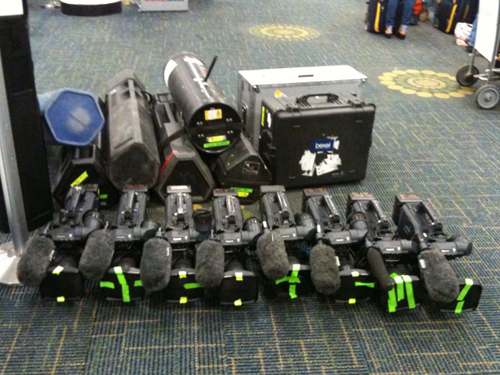 As the tickets were being printed the phone call came back from South America. They had released the French cameras at customs! After ten days! Our crew and gear were told to stand down. Of course there was disappointment on the part of the eight who were going to an expenses paid "vacation" but it was also good news that the craziness of South American customs finally was tamed.

Call us regardless of the craziness of your order. We are ready to solve the biggest or smallest of production challenges. Our BudgetVideo.com website is also available at www.RentACamera247.com!
Backstage at Ultra Music Festival
2009.03.27 Friday

Perry Farrell signs autographs backstage at the Ultra Music Festival in Miami. Budget cameras and gear were used to record the action on stage as well as anything happening behind the scenes. Photo by Robert Giordano.
Production with RED One Camera
2009.03.14 Saturday

On set with Miguel Parto, DP and a RED One Camera from Budget Video.



Director Ricky Luis and DP Miguel Parto
Red One and Los Del Rio "Macarena"
2008.11.18 Tuesday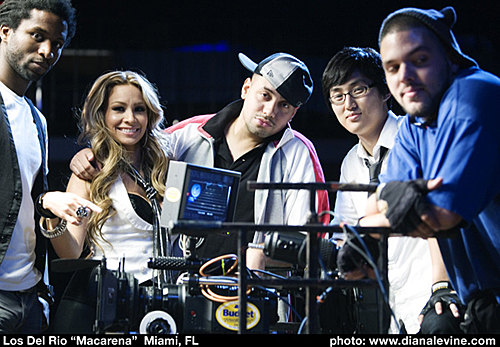 On set for "Hey Macarena" Remix and "Mi Gitana" with a Red One camera from Budget Video. From left to right, Gaffer Gabriel Antoine, Cash Money Recording Artists T. Lopez, Director Vid Arroyo, DP Matt Workman, AC Miguel P.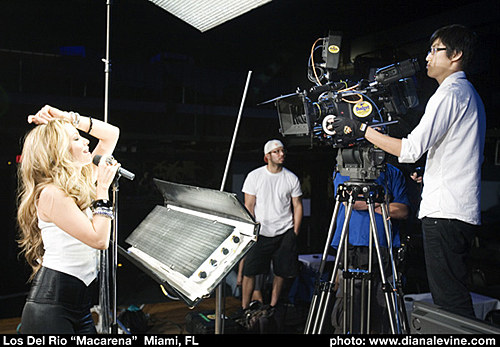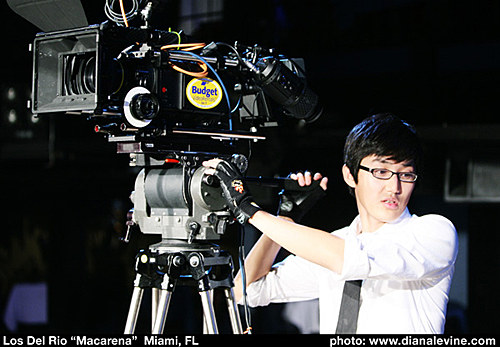 Director of Photography Matt Workman with the Red One camera.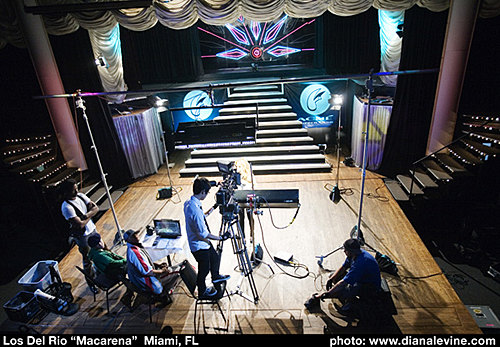 photos by Diana Levine.
Budget Video sponsors the 48 Hour Film Project
2008.10.22 Wednesday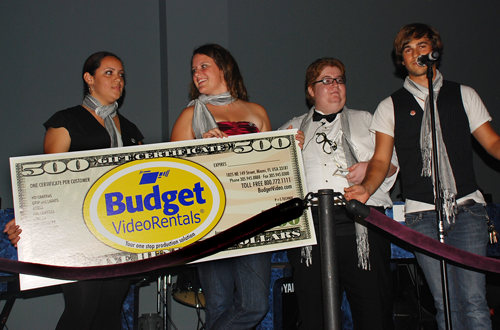 Budget Video is proud to be a sponsor of the 48 Hour Film Project.
David Haylock with Miami Film Commissioners
2007.12.27 Thursday

David Haylock at Budget Video Rentals shows the P+S Technik film lens adapter for the Cine Alta to Miami and Miami Beach Film Commissioners Graham Winick and Robert Parente during their familiarization tour of the production community.